Don't let back pain rule your life

Cure back pain without surgery or drugs!
Pain in any area of your back can impact massively on day-to-day life. Any sufferer will know how restrictive and debilitating back issues can be.
So when back sufferer Peter Johnson, The Back Champion™, was told by doctors he could be in a wheelchair by 50, he resolved to cure his pain.
His award-winning book 'I beat back pain so can you' tells Peter Johnson's inspirational journey from crippling inability to move around his own home to leading a group of walkers up to the base camp of the highest mountain in Tibet.
Already the winner of 4 prestigious literary prizes, 'I Beat Back Pain So Can You' is an insightful blend of anecdotal experience with practical advice and recommendations. It offers real-life guidance on movement, flexibility, diet, driving and many more daily activities.
Author Peter Johnson: "I could not sit, stand or lie without being wracked in pain. People are amazed how I have transformed my life telling me to share my journey of how to regain full mobility and live a perfectly 'normal' life again. I take no medication, use no appliances, nor have I had back surgery or injections. I am not a medical practitioner – just someone determined to get better."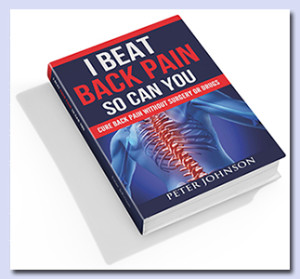 This book can change your life, it is for you if:

You suffer from bad lower or mid back pain

You know anyone or care for someone who has a back problem

You have intermittent back pain problems

You need to change anything at home because of a 'bad back'

You are not comfortable at work or in the car because of a 'bad back'
What readers say:
"Brilliant! This book contains information and tips you won't find anywhere else."

"As a doctor, I believe it is medically safe and sound as a valuable resource."

"Easy to understand and with more useful information than other back pain books I've read."

"The book is structured so it's easy to understand and read, with summaries and exercises."

"At last, a book that speaks common sense! If you are serious about not being held back, this book is for you."

"What better way to cure your back problem than to learn from someone who has done it."
The book is available to order in paperback through your local bookshop or through online bookstores such as Amazon, The Book Depository and Barnes & Noble. It is also available for instant download as an eBook on most eReaders such as Kindle, iBook and more.